This was a Calgary daughter's first-hand account of watching her artistic mother, Joan, struggle with dementia, and how one-on-one art therapy has helped her regain joy in creative expression activities:
When we were selling Joan`s watercolor paintings, we promoted Sir Joshua Reynolds' sentiment: A room hung with pictures is a room hung with thoughts! Joan did not let being legally blind stop her from painting landscapes of the backcountry she had skied, fished, hiked and biked. She played bridge on the computer, listened to audiobooks, lectured about Charles Bonnet Syndrome, used her talking watch and magnifiers with aplomb, drove her scooter, and lived independently until delusions signaled progressive dementia at 93. As a poster gal for creative aging, Joan accepted the brain changes and agreed to moderate medications.
Today, at 94, bound to a wheelchair and living in a long term care centre, Joan paints daily, at a table in the hallway, where residents and staff can see her and,sometimes, make comments. She wants to keep connected and understands the risk of communicating her inner self in a community ripe with angst. Her art is now a squiggly line depicting the mountains, a Chinook sky and some blotches for meadows.Yet, it is now so much more, thanks to a brilliant, talented, compassionate young lady, Samantha, recruited by an agency called Right At Home. Together, they repurpose Joan's paintings into all sorts of creations. Imagine learning to use a glue gun to make 3-D hearts or Easter baskets or mosaic rabbits featuring your own cut-up watercolors. The artwork decorates the care center's artificial tree in the reception for all to see and, hopefully, think about what creative expression is all about.
Together, the Right At Home team members, Joan and myself, developed a holistic routine that fits in around the care centre's recreational activities. It includes chair yoga, tongue and mouth exercises, coconut oil massages, crosswords, and angelic messages to 'soothe, heal, and open your heart'. There is kinetic sand to run your fingers through and dry clay and playdoh to sculpt or just roll or press or toss in the air. We discovered Bluetooth speakers and the idea of playlists on a cell phone so we can happily bounce our shoulders and sing some favourite songs like "The Sunny Side of the Street" and "Ac-Cent-Tchu-Ate the Positive".
All of these activities fully engage Joan and are meant to help restore daily the self-confidence shattered when she is left alone to the night terrors, real and imagined. Creative aging gets tough when you are 97 per cent aware of your circumstances and have so little control. I admire many of the people I have met who are recreational aides and are doing their best in their institution. Yet without the one-on-one caregivers from the enlightened agency Right At Home, Joan – and I – would have withered.
To view more of Joan's art please visit her website.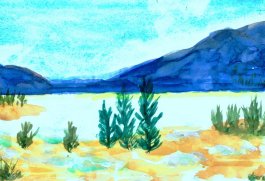 *This was reposted with the permission of Right at Home*